Amplify DEI* Summit 2020 (Diversity, Equity & Inclusion) 28-30 Sept 2020
What is Amplify DEI 2020?
A three day online summit featuring 120+ presentations by 70+ international experts, sharing education, experience and insights on how to implement successful DEI practices in the workplace. https://amplifydei.com/

Some of our key topics include: Leadership and management, Talent development and advancement, Gender equality, Anti-racism, The LGBTQ+ community, Unconscious bias, Work life and flexibility, Mentorship, People of colour, Neurodiversity, and so much more!

A strong DEI (Diversity, Equity, and Inclusion) mission within the workplace is one of the most important pillars for business success and employee wellness.

The Amplify DEI 2020 Summit will feature 60+ guest speakers who will be:
*Imparting knowledge on what successful DEI is;
*Sharing experiences highlighting why DEI is important;
*Providing evidence on why DEI needs to be a part of the DNA of any company.

Learn From Experts
Learn directly from 60+ international experts on everything relating to how to boost diversity in your organization, attracting & retaining diverse talent, and so much more!

Watch On Demand
See this summit as "the Netflix of Diversity, Equity & Inclusion," you can tune in to this virtual summit whenever you want, wherever you want. Time and location are no longer boundaries to amplify DEI within your company.

It's time to get focused on the areas you need help with
Unlike physical conferences where you can end up sitting through the content you just don't need, Amplify DEI is delivered entirely online. Dip in and watch the specific talks you need to for implementing successful DEI strategies in your organization or watch them all. It's up to you!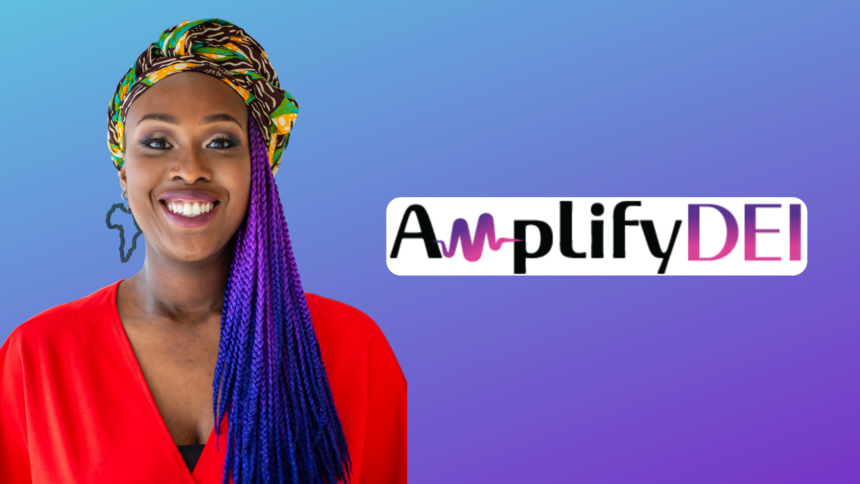 Meet Your Host
"Vivian Acquah made a promise to her son Orlando (6yrs). She wants to help make the world a better place, starting from within the workplace.

By the time he enters the workforce, she doesn't want him to deal with the same BS that she has dealt with when it comes to inequity. She wants him to live in a world where employees and employers are inspired and inspiring and strive to create thriving work environments for EVERYONE."

The host of this summit is Vivian Acquah, the workplace wellness advocate and host of the Let's Humanize the Workplace Podcast. Vivian has worked with international companies by advising them how they can transform their people from being burned out, disengaged, feeling stressed to team players who are happy, healthy, engaged and energized.

The Summit: Objectives and Outcomes

The key objectives are:
To provide knowledge and information which will allow employers to take more inclusive decisions when dealing with DEI challenges, which will benefit both employees and the company. Bearing in mind that organisations with inclusive business cultures and practices are 57.8% more likely to improve their reputations.
To increase understanding about diversity & inclusion challenges which will allow the company to stand out to the employees as one that cares about diversity - and a workforce that feels cared about is one that will be more productive.
To develop skills to deal with diversity and inclusion challenges and transform those challenges for your company to activate an inclusive company culture.

Cultivating a diverse employee population helps every employee to show up each day without fear of being their true selves. The ability for employees to bring their best selves to work is not only the right thing to do, but it's also better for business. The importance of DEI initiatives as a part of an employee engagement and experience strategy cannot be understated.

Either you have noticed you are missing certain perspectives within your current organisational culture or you are not reaching the audiences you want to with your organisation at the moment. Don't you want to be part of the invaluable group of vision setting companies making changes in Diversity, Equity and Inclusion?

The goal of the Amplify DEI Summit 2020 is for employees and employers from diverse backgrounds to better understand how to communicate, resolve problems and respect one another's differences.

Following the talks and interviews, your teams will be better empowered to understand one another, so as to foster openness and understanding in your organisation. This will not only encourage individual growth and employee self-efficacy but will benefit the growth of the company as a collective.

Finally, with increased job satisfaction and productivity, the effects of this summit will ripple out into improved customer satisfaction and a stronger business culture with the potential to attract and retain talented employees.

Learn more about the event here: https://amplifydei.com/
Twitter https://twitter.com/amplifydei
Instagram: https://www.instagram.com/vivalavivenl/
Facebook https://www.facebook.com/amplifydei
LinkedIn: https://www.linkedin.com/in/vivianacquah/
Keywords: antiracism,equity,bipoc,leadershipskills,action,diversitymatters,neurodiversity,inittogether,leader,diversityandinclusion,discrimination,workplacewellness,advocacy,racism,leadership,manager,DEI,BLM,learning,POC,InItTogether,humanizetheworkplace,representationmatters,poc,BIPOC,humanresources,wearebettertogether,inclusion,leadershipdevelopment,diversity,virtualsummit,HR,hr,genderequality,learninganddevelopment